Representation Matters Trainings
13 Nov 23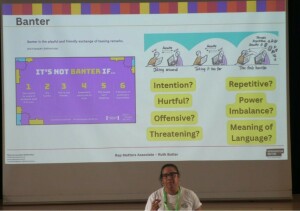 As we begin Anti-Bullying Week, we are very pleased to let parents know about what we are doing in school to make sure that everyone feels safe and welcomed at Sheldon and that we are doing everything we can to live our school values each day -- to be kind, be brave and be the best you.
During tutor time this week we will be talking about how we can all work together to take a stand against bullying. Students will also be reminded of the confidential reporting tool on epraise, so that they can let staff know if they see or hear bullying taking place at school.
Throughout the next few months, each year group will take part in workshops facilitated by Ruth Butler of Representation Matters with the aim of building an anti-discrimination culture in the school. Much of this training focusses on banter and the harm that can be caused by seemingly playful language. Our Year 9 students were first to receive the training with many interesting discussions arising about how to consider their language and to think carefully about how they interact with their peers. They discussed how to identify when banter goes to far and becomes bullying.
During our development days at the beginning of the school year, all staff received antidiscrimination training from Representation Matters. We are currently working with the organisation to audit our school so that opportunities to strengthen our work on equality, diversity, inclusion and belonging can be identified. We look forward to sharing the results of this consultation soon.
We are also welcoming all parents and carers to join us for an information session along with Aisha Thomas of Representation Matters so that you can be involved in this process as well. Along with explaining the work being done in school, itwill also explain some of the umbrella terms we use in relation to race and LGBTQIA+. Please join us Tuesday 14 November at 5:30pm in the School Hall to learn more.