Rewards and Sanctions
Rewards
Sheldon is proud of its commitment to rewarding good work and behaviour. Our pupils are motivated and encouraged by staff on a daily basis and we encourage pupils to act in a positive manner, independent of potential reward.
Merits are the main form of day-to-day reward in Years 7 to 8 and online Achievement Points (APs) in years 9-13.
Our teachers, teaching assistants and supervisors issue merits and APs for:
·     effort
·     using initiative
·     contribution
·     responding to areas for improvement
·     quality of work either at home or in class
·     contribution to the school or wider community
·     meeting agreed targets
·     good attendance
·     good interim reports
·     attendance at clubs
·     responsibility through exceptional positive behaviour, helpfulness, politeness or integrity
Certificates will be awarded for attaining 50, 100, 150, 200, 250 merits or APs.
Prizes and incentives will accompany some of these achievements.
Other Rewards – all years
Sheldon's Achievers' Draw
Pupils earn one ticket for every 10 Merits or APs.  One ticket is earned for 100% attendance per half-term. All the tickets are entered into the termly Achievers' Draw, held by each Year Group for an extended celebration assembly.
Faculty and Pastoral Awards
Faculty Awards are made three times a year and presented at Achievers' assemblies. Pupil of the Term pastoral awards are awarded six times a year.
Reward Postcards
Subject and Year Group reward postcards are commonly posted home and used to celebrate particular contributions to life at Sheldon, in lessons or beyond.
Headteacher Commendations and Celebration Lunches
Mr Spurdell takes the opportunity to meet with pupils with particularly pleasing annual reports. Pupils value being recognised for their hard work and effort and it is common for pupils to be invited to a celebration lunch in the refectory with senior members of staff.
Awards Evening
This is our formal way of celebrating particular achievements. Parents and pupils attend by invitation and a keynote speaker leads the evening.
Sanctions
We are very proud of the behaviour of pupils at Sheldon.  As a result of positive attitudes to school, learning is effective and we have a happy, purposeful and successful community.
OFSTED 2017 commented, "Pupils behave very well in and out of the classroom and are willing and admirable ambassadors for the school."
Good behaviour is expected from all pupils throughout the school day. Good behaviour for learning is expected in all lessons at all times. Any behaviour by a pupil which slows down their learning, that of their peers or means that the teacher is distracted from teaching will lead to a sanction.
The Sheldon Sanctions Staircase is explained to every pupil at the start of each year, as well as the rewards offered and routines to be adopted. Its use ensures that consistency can be achieved. It addresses behaviour at various levels of severity.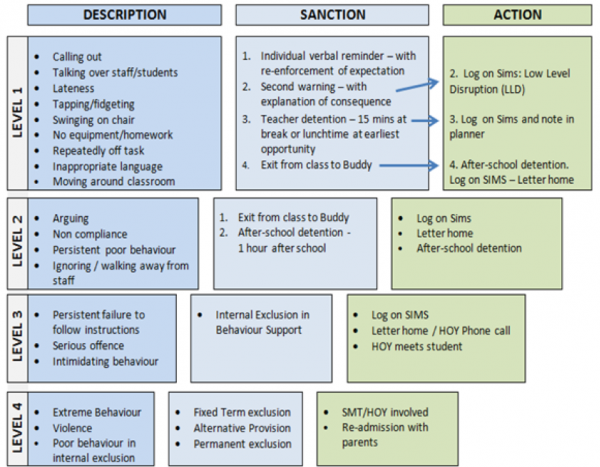 *Low Level Disruption (LLD) Referrals:
From September 2017, following a review of the system, we introduced these referrals to ensure that small irritating behaviours were addressed quickly. They are logged on the SIMS system by a class teacher.
These referrals are calculated over a term. At the start of each new term, they are reset to zero.
Consequences of LLD referrals:
5          Letter home
10        Letter home and Head of Year lunchtime detention
15        After school detention
20 +    Interventions at the discretion of the year head – e.g. internal / external exclusion for persistent poor behaviour, report card. Parents always involved at this level.
Letters are sent home when thresholds are met.